Subscribe in a reader
November 2009, Volume 1, Issue 11
Check your Calendars!
American Education Week
Nov. 15-21
Letters for Literature
Dec. 12 deadline
SDLA Legislative Day
Jan. 14, 2010
ALA MidWinter
Jan. 15-19, 2010
PLA National Conference
March 23-27, 2010
---
Cornerstone Survey
Share your opinions of the Cornerstone Newsletter in this quick survey!
---
Featured e-Resource of the Month
SIRS adds November Native American Spotlight of the Month, 21st Century tools, and more!
---
Trends and More
HathiTrust Digital Library protects the historical record
If you are familiar with using Google, you have probably also used Google Books. As of Oct. 9, Google has scanned over 10 million books. Now, there is a new source of digitized information available called HathiTrust. Hathi (pronounced hah-tee) is the Hindi word for elephant, an animal known for its excellent memory.
The HathiTrust Digital Library is a massive archival collaboration involving 25 research universities with the University of Michigan, the University of Virginia and the University of California system leading the partnership effort. Currently, 4.5 million volumes have been digitized, including 700,000 in the public domain. HathiTrust and Google Books may overlap in digitized content, however HathiTrust will also provide content that may be unique to each institution.
John Wilkin, Associate University Library, University of Michigan and the Executive Director of HathiTrust, provides further insight into the Google Books comparison, "Only libraries, however, can ensure the historical record is protected against distortion, suppression, and loss. As librarians, we must assume responsibility for the role. No matter how pivotal the Google product becomes in the lives of our users, Google cannot protect the historical record and ensure its future for the public. Libraries are responsible for that very role. Along with that comes a responsibility to make material in our collections as accessible to users as legally possible. This is what HathiTrust does. These are the goals we have set."
Searching the HathiTrust Digital Library is as easy as searching Google Books, and includes no advertisements. After performing a broad search, links are provided to narrow the search by subject, author, date, location, etc. A WorldCat link is included in most records to provide assistance in locating copies at lending libraries.
What is readers' advisory?
Readers' advisory is assisting patrons of all ages with choosing popular and recreational reading, viewing and listening choices. It's about books and much more. It's helping the patron find something when they only have a vague idea of what it is that they want. So how do you do this? Try these three steps to get started.
First, do your best to keep up with popular culture, new technologies, your community and your local schools. Read, watch and listen to what's going on in the world. Buy all formats and genres of what's currently popular. If you are fortunate enough to be one of many staff members, you can focus on just one group such as teens. But remember, almost everyone loves to talk about what they've read, seen, or heard.
Second, establish an active presence. Get out from behind the desk and start real conversations with your patrons. It's very similar to the reference interview – avoid questions with yes or no answers. Know Joyce Saricks' appeal factors: frame, tone, characterization, pacing, storyline and style. Two great sources to review are the I Need a Book! DVD from the SDSL and Research Based Readers' Advisory by Jessica E. Moyer. Develop a simple way to skim the materials you don't have time to read completely and keep a list of what you have skimmed and read. Moyer has developed a useful Read a Book in 10 Minutes plan at Research Based Readers' Advisory. The same process can be adapted for audiobooks. movies, etc. Take a look at book trailers on YouTube or at DSU Homepages: Book Trailers - Movies for Literacy.
Third, establish a passive presence in both your physical and virtual library. Creative displays and lists are essential, but also use a blog, wiki, podcast and/or social networking site to link readers to the library and each other. Take a look at Morton Grove Public Library's Reader's Corner, Brookings Public Library's Teen Corner Blog, or Harrisburg High School Library.
Consumer health resources that can help!
By Fran Rice, Executive Director, Health Connect of South Dakota (MHSA, MSLIS)
In a time when everything in the world is a little topsy-turvy, it is important to feel empowered about the one thing we can usually control and that is ourselves. According to the Healthy People 2010 Library Initiative recently published American Association for the Advancement of Science (AAAS) report, The Challenge of Providing Consumer Health Information Services in Public Libraries (2009), "one of the biggest challenges today's librarians face is an insatiable consumer demand for health information."
You and I want to be healthier people. So who do we want to help us to find the magic change or cure? The public librarian of course! As the AAAS report (2009) states, "public libraries, whatever their size or resources, must attempt on a daily basis to answer telephone and in-person requests, and provide health information materials and guidance to members of their communities."
With health information, it is important to locate readable reputable Web sites. It is also important for the Web sites and health information to be current. If you want to build a physical collection, development resources are available through the Medical Library Association or the National Library of Medicine's MEDLINEPlus.
Big or small health questions will come to your libraries. Don't panic! The Partnership for Clear Health Communication has been promoting the AskMe3 questions to empower a patient for any of their medical visits. The questions of "What is my main problem?", "What do I need to do" and "Why is it important for me to do this?" are as important to a health consumer as "Do you have this magazine on diabetes?" or "Can we get this book on bullying for me to read with my child?" When the patient is at a healthcare professional's office, they want to be prepared. Reading or listening to information on tape, video or an interactive Web presentation will boost the communication process.
Two reliable resources to help you with beginning to answer those health questions include:
MEDLINEPlus
This is an every person friendly Web site on thousands of health disorders created by the National Library of Medicine.
HealthFinder
This Web site, created by the U.S. Department of Health and Human Services provides information on online publications, support groups and much more.
Encourage your library patrons to ask questions by using the AskMe3 steps. You have told a patron, "There no question is dumb." This applies to healthcare too!
Everyone wants help with health information.
Asking questions helps you understand how to stay well or to get better.
You don't need to feel rushed or embarrassed if you don't understand something.
You can ask your doctor, nurse, or pharmacist as many times as you need to.
You are not alone if you find things confusing at times.
You can also call Health Connect of South Dakota at 605-371-1000 or toll-free 1-888-761-5437 for assistance or resources. Contact Fran at director@healthconnectsd.org.
References
Chobot, Mary. (2009). The Challenge of Providing Consumer Health Information Services in Public Libraries. Washington, D.C.: American Association for the Advancement of Science.
More resources in the news
Library 101 Project by Michael Porter and David Lee King
ACRL 2008 Statistical Summaries
Best Free Reference Websites 2009
Choices Booklists from the International Reading Council
Complete Guide to Twitter (PDF)
The Exquisite Corpse Adventure: online progressive story by famous children's authors
TechSoup: Should you upgrade to Windows 7?
SD Office of Emergency Management has some free publications. Here's the Winter Weather Preparedness bookmark (PDF).
SDLA presentations Learning 4 Life and 21st Century by AASL President Cassandra Barnett are now at the South Dakota State Library: Professional Development/ Continuing Education.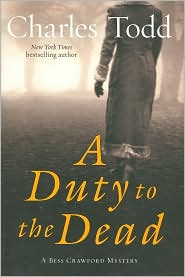 What is Library Development reading?
Patsy Kringel is reading A Duty to the Dead: a Bess Crawford Mystery by Charles Todd. The story opens on a hospital ship in the Mediterranean, where Bess Crawford works as a nurse during World War I. She was asked by a dying soldier to deliver a message to his brother. The message and the unusual way the brother receives this message leaves Bess with an unsettled feeling and the mystery begins to unfold, complicated by the very unusual family dynamics of the family of the dead soldier. This is the first book in the Bess Crawford series. "I will definitely be waiting for the next!" exclaims Kringel. Charles Todd (a mother-son writing team) also has 11 books in the Ian Rutledge series which also take place in England right after World War I and Kringel highly recommend them too.
Other titles now being read by Library Development staff include:
13 ½ by Nevada Barr
The Angel Whispered Danger by Mignon F. Ballard
Bad Boys of the Black Hills and Some Wild Women, Too by Barbara Fifer
The Dragonfly Pool by Eva Ibbotson
The Family Band: From the Missouri to the Black Hills, 1881-1900 by Laura Bower Van Nuys
Fire by Kristin Cashore
The Free Bards by Mercedes Lackey
Going Bovine by Libba Bray
The Help by Kathryn Stockett
A Lion Called Christian by Anthony Bourke, John Rendall and George Adamson
Pillage by Obert Skye
Splendor (Luxe Series #4) by Anna Godbertson
Two Old Women by Velma Wallis
And titles now being listened to in audiobook format include:
The Boomerang Clue by Agatha Christie
Defending Angels: A Beaufort & Company Mystery by Mary Stanton
---